..:: Introduction ::..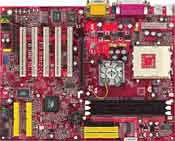 Micro-Star International, better known as simply MSI, is a manufacturer whom has become known for several things. MSI is best known for producing high quality, high performance, cost effective, and incredibly stable motherboards. They are also known for their use of bright red PCB's for their line of mainboards. Another item that makes MSI stick out from the crowd is their inclusion of "PC2PC Bluetooth" in their mainboard packages. If you remember a while back, Bluetooth was, and still somewhat is one of the most hyped items in the computer industry. As of now, MSI is the only motherboard manufacturer to bring Bluetooth technology to their line of products; however other mainboard manufacturers such as EPoX have also begun to announce motherboards with Bluetooth support. Today, we'll be taking a look at MSI's latest KT333 solution for AMD based systems, which offers Bluetooth support among many other features.
..:: Specifications ::..
Processor

Supports Socket A (Socket 462) for AMD® Athlon™ XP/ Athlon™/Duron™ processor
Supports 800MHz up to 1.8GHz (Athlon™ XP 2200+) processor
Chipset

Northbridge: VIA® KT333 Chipset
FSB @200/266 MHz
AGP 4X and PCI Advanced high performance memory controller
Southbridge: VIA® VT8235 Chipset
Integrated Direct Sound AC'97 audio
Dual channel Ultra DMA 33/66/100/133 master mode EIDE controller
Integrated USB 2.0 controller
Memory

Supports six memory banks using three 184-pin DDR DIMMs
Supports a maximum memory size up to 3GB
Supports 2.5V DDR200/266/333 DDR SDRAM DIMM
Expansion Slots

One AGP slot
AGP (Accelerated Graphics Port) specification compliant
Supports AGP 2.0 1x/2x/4x
Five 32-bit PCI bus slots (support 3.3v/5v PCI bus interface)
One CNR (Communication Network Riser) slot
Onboard IDE

An IDE controller on the VT8235 chipset provides IDE HDD/CD-ROM with PIO, Bus Master and Ultra DMA133/100/66/33 operation modes.
Can connect up to four IDE devices.
Onboard Audio

Realtek ALC650 6-channel audio
SPDIF out (through S-Bracket only)
Onboard Peripherals

1 floppy port supports 2 FDDs with 360K, 720K, 1.2M, 1.44M and 2.88Mbytes
2 serial ports (COM A + COM B)
1 parallel port supports SPP/EPP/ECP mode
1 IrDA connector for SIR/ASKIR/HPSIR
1 audio/game port
1 D-Bracket™ pinheader
1 S-Bracket pinheader
BIOS

The mainboard BIOS provides "Plug & Play" BIOS which detects the peripheral devices and expansion cards of the board automatically.
The mainboard provides a Desktop Management Interface (DMI) function which records your mainboard specifications.