..:: SPECviewperf 7.0 ::..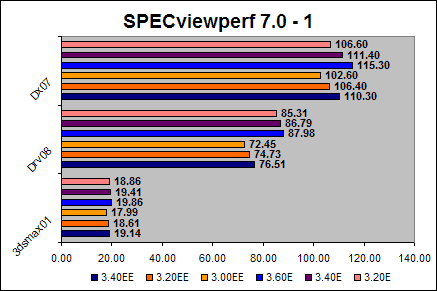 For our CAD related benchmarks, we chose to go with the tried and true SPECviewperf 7.0 benchmarking suite. This suite features a combination of six different benchmarks based off of various CAD related software in order to display the average frame rate that and end user would experience on the system. To start things off, we're going to look at the results provided via the first three benchmarks, 3dsmax, DRV, and DX. In each and every one of the above results, we see the "Prescott" based Pentium 4 besting the Extreme Edition clock for clock. The "Prescott" core also showed impressive results in earlier CAD related benchmark results, and this holds true when placed against the Extreme Edition CPU.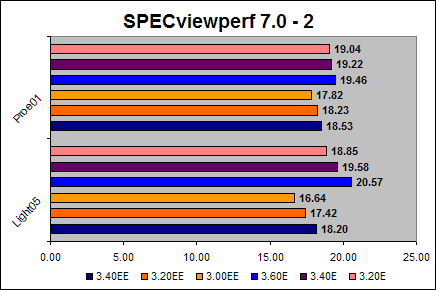 As far as the two remaining benchmarks go, Light, and Proe, the story we have seen in the other SPEC results once again holds true. These two benchmarks show the "Prescott" core with a more substantial lead over the "Northwood" core Extreme Edition than those we saw with 3dsmax and DX. For each of these benchmarks, the 5xx processors are able to best the "EE" with relative ease. Now that "Prescott" has begun to speed up, we're better able to see the beginnings of the benefit added by the modified architecture, deepened pipeline and all.