..:: FutureMark 3DMark05 ::..
Again, we have a benchmark that needs no introduction. With the recent release of 3Dmark06, we'll soon be shifting our testing over to that new platform. For these results, however, we're sticking with the 05' version. When it comes to the graphical scores, there is virtually no difference between any of the processors as one would expect. Looks like it's time for a graphics upgrade. I digress. On the other hand, for the CPU benchmark results we find the Extreme Edition 955 getting another massive boost of nearly 18% over the Extreme Edition 840, and nearly 31% over the Pentium D 820. Excellent numbers no doubt.
..:: Unreal Tournament 2003 ::..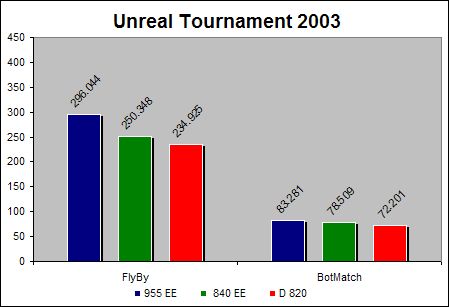 The next to last benchmark for our testing today, Unreal Tournament 2003, shows us some interesting results. For this test, we ran the benchmark in 1024 x 768 resolution to take the graphics card out of the equation as much as possible, along with using a realistic resolution. For the BotMatch results, it becomes obvious that the graphics card came into play at this resolution. Again we see the Extreme Edition 955 with a little over a 6.0% performance gain, the same common denominator in all previous benchmarks where the graphics card has taken a staring role. On the other hand, the FlyBy results give us what we're looking for, an 18.3% boost in performance between the 955 and 840, as well as 26% over the Pentium D 820.
..:: DOOM3 ::..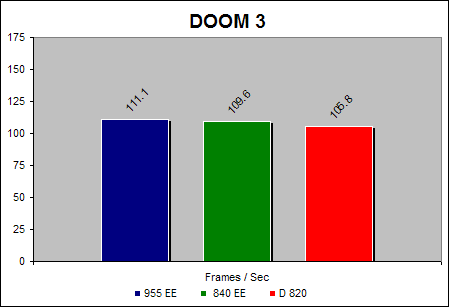 To finish of this first set of benchmarks, we have DOOM3. For this benchmark, we set the system settings to Medium Quality, and ran the benchmark in 1024 x 768. This benchmark shows only a small performance lead for the Extreme Edition 955 over the 840 and Pentium D, again due to graphics limitations. At lower resolutions, we attained results similar to those found in Unreal Tournament 2003, and 3DMark05, but we were still limited by graphics capacity.