..:: Intel DX79SI ::..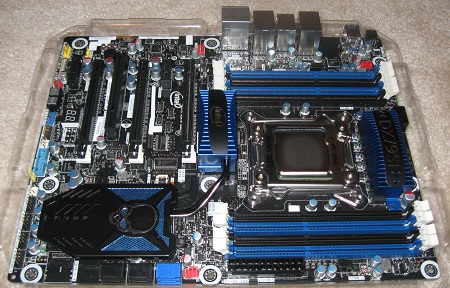 The DX79SI "Siler" motherboard adorns the look and feel typical of Intel's enthusiast products. Sporting a black PCB with blue DIMMs and blue anodized heatsinks, it's a simple, yet aggressive look. It wouldn't be complete without the skull, and this time rather than making it light up in the board, Intel has incorporated it into the PCH cooler. I have to say, this is one of my favorite board designs in terms of looks to come out of the Intel design labs.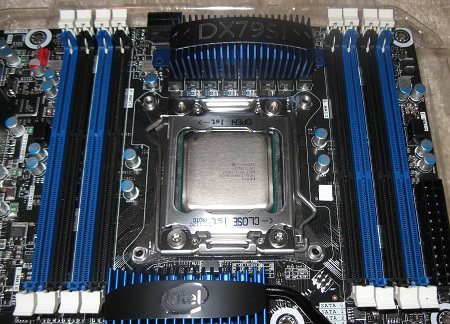 As we begin our detailed analysis of the DX79SI, let's start with the processor socket. The new socket is a mammoth, but as was already mentioned, it finally includes high quality threaded holes for mounting coolers. Given the 130W TDP of these performance LGA 2011 processors, it'd be wise to invest in a high quality (read: large, expensive) cooler. These mounting points should help with compatibility, and make it easier to mount existing products that previously needed a plastic or metal mount on the rear of the PCB.
A FET heatsink runs along the top of the socket and is outfitted with an etched metal badge sporting the board's name, DX79SI. Just above this heatsink if the standard eight-pin power connection. Given the height of the FET heatsink, this location could make it somewhat of a pain to plug in, depending on chassis and CPU heatsink configuration. A second FET heatsink runs along the bottom of the socket, and is connected to the PCH heatsink via a heat pipe. Again, this heatsink has an etched metal badge, though this time it features the Intel logo. Other than a few other small items, i.e. caps and SMT parts, the area around the processor socket is clear.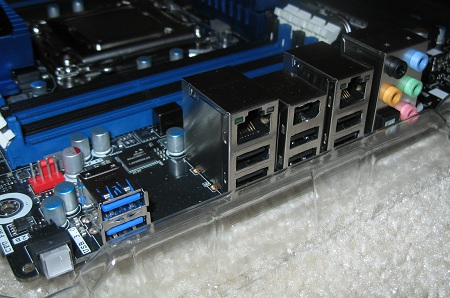 In the rear I/O area, we see another derth of components, as well as the main four-pin CPU fan header. This header location was a bit difficult to access in our chassis, especially with the rear mounted radiator. It wasn't anything difficult to work around, but it would've been nice if it were located more towards the front of the board.
As far as the actual I/O panel goes, we see that Intel has placed their B2B (Back to BIOS) toggle switch at the top along with the blue colored USB 3.0 capable ports. If you're not familiar with the B2B function, it simply acts as an easy way to force your system to boot directly to the BIOS. Below that we see all six USB 2.0 ports, dual Ethernet ports, 1394 and of course the audio ports. I was surprised to see the dual Ethernet option on this board as this typically isn't common of Intel's enthusiast line.