..:: 3D Mark Vantage ::..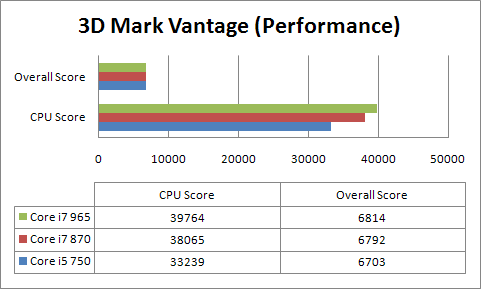 I doubt 3D Mark Vantage really needs any sort of introduction. It has been one of the most utilized graphics benchmarks for years, albeit changing names a few times. For the overall result, we see very little difference amongst the three processors. This is shooing us that at the resolution tested, we are being limited now by the capabilities of our graphics adapter rather than the processors themselves. A clearer picture is painted by the CPU scores. Here, the i5 750 falls behind the i7 870 by a margin of roughly 15%, while the two i7's are closely matched. The 965 Extreme holds an advantage over the competition as we would expect.

..:: World in Conflict ::..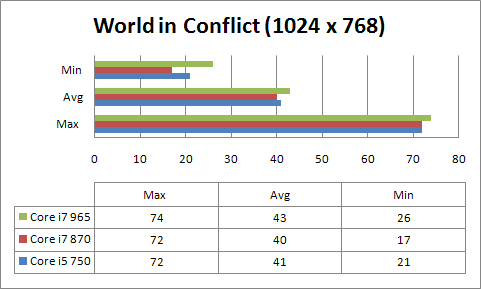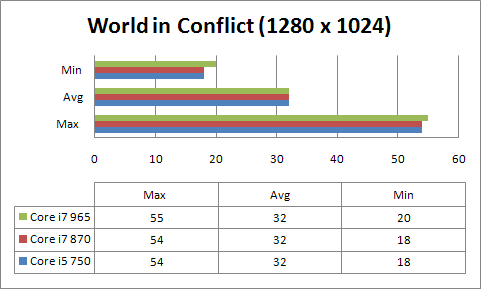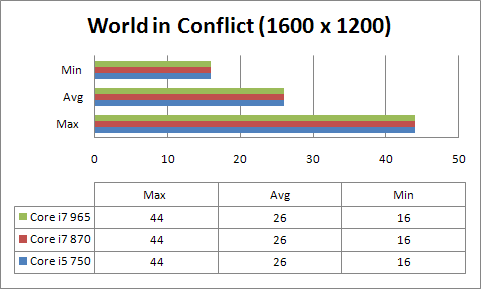 Finally, to end our benchmarking results we took a look at the performance of World in Conflict as three different resolutions. Given the results we saw with 3D Mark vantage, I was expecting to see similar performance among all three solutions when we hit the higher resolutions. This ended up being the case. In low resolutions we found the 965 Extreme / DX58SO combination taking the top spot, but only by a slight margin. The two processors on the DP55KG platform put up virtually identical numbers, no difference that would ever be noticeable to the end user. The performance across all platforms became identical once we moved to higher resolutions. It became apparent that these processor can all handle a much tougher beating than our 8800GT. Time to upgrade? We think so.