..:: HyperPI ::..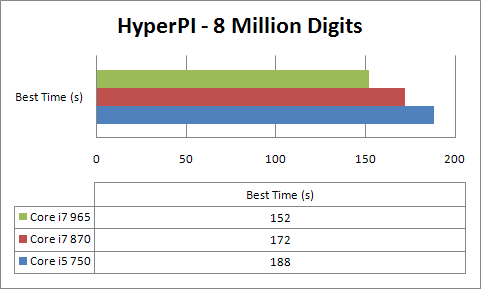 HyperPi is one of the many variants of programs used to measure the amount of time it takes for a system to compute pi to X number of digits. As the number of digits increases, performance difference become more and more readily apparent. As can be seen from the graph above, there is pretty even scaling amongst our three processors, and those on the DP55KG platform. The X58 based 965 Extreme rolls in with the lowest time, while the i7 870 comes in second and the i5 750 brings up the rear. The i5 750 falls behind the i7 870 by roughly 9%.

..:: Cinebench R10 ::..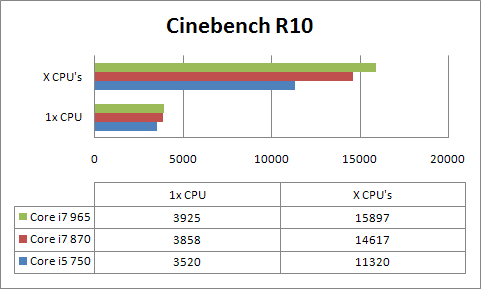 Cinebench is one of the more popular 3D rendering applications used for system benchmarking. It is a very useful tool in that it allows for benchmarking on both single and multicore setups. In terms of single core performance we saw very similar performance results across all processors. Because of the varying Turbo Mode settings amongst processors, we see a more concise set of results. At a full load on one processor core, Turbo mode will crank the processor frequency as high as it can go, giving maximum performance on a single core. For multicore, we see things spread out a bit more. The i7's are again grouped together closely, while the i5 falls back by a substantial margin.
..:: Pov-Ray ::..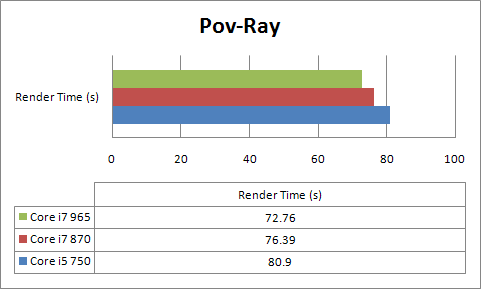 Pov-Ray is again a popular benchmark for rendering performance. This places a good deal of stress on the computing resources and allow for an excellent illustration of relative performance amongst processors and chipsets. Performance in Pov-Ray was quite close for all processors and chipsets. The i7 870 only held a small 5% gain over the i5 750, and falls behind the 965 Extreme by a similar margin. Here we are again seeing how close these processor can be in a single core application.
..:: Blender ::..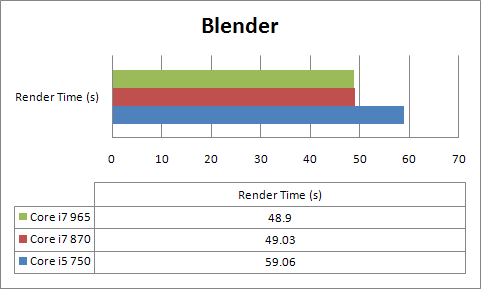 Blender is an open source software suite for 3D applications. In our use, we swill again be testing the rendering time of an object to gather performance data of the P55 chipset and the LGA1156 processors. The two i7's keep pace well with each other, while the i5 falls behind by a margin of roughly 20%. There is a clear advantage to the i7 processors using Blender.