..:: Layout – LGA 1156 Socket Area ::..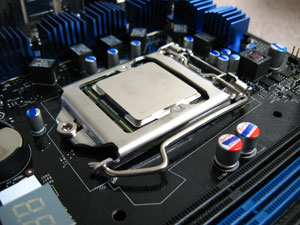 We'll begin our customary tour of the motherboard by starting with the area around the LGA 1156 socket. Intel makes excellent use of this space by providing the board with a six phase supply for the processor Vcore. This is in stark contrast to other third party motherboards that are offering crazy setups, i.e. 16 phases, 24 phases and more. Intel has chosen to go with a simpler design that spreads the components out. Will the perceived lack of phases actually cut into performance or overclocking? It may and may not, it all depends on how manufacturer A or B implemented their multi-phase supply. I'll be addressing this issue in more detail in a future update to the Motherboard Design Process article.
Intel has chosen to provide anodized blue heatsinks to pull away the heat from the MOSFETs. This is a typical design for Intel's high end products with the black PCB. These are held down with a combination of thermal material and the retaining mechanisms that hold it down against the FETs. These should provide adequate cooling for the FETs and ensure solid stability of the DP55KG.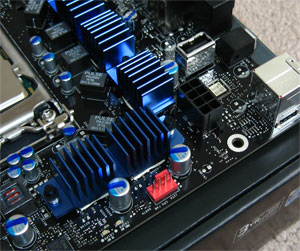 The processor area of the board is also home to the eight pin power supply connector, as well as the four pin CPU fan connector. I've been a big fan of these four pin fan headers since they first debuted, they add a good deal of quiet to my life, especially when running these boards through the ringer.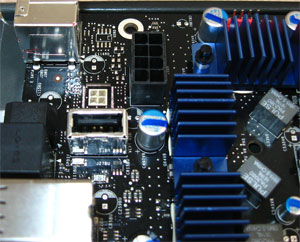 Intel has also placed an internal USB 2.0 header in this portion of the board. This is a pretty unique spot to drop an internal USB port, one that certainly came in handy for testing, but in the real world I don't see many users opting to utilize this unless they're able to user all of the external USB 2.0 ports up first. I haven't yet been able to do such, and I commend anyone who can, but this port will be there for you should you need it.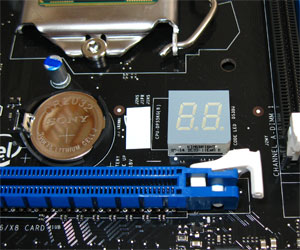 Finally, we see the system battery located just below the LGA 1156 socket, along with an item I don't know how I ever lived without, the debug LED display. I've used these n multiple boards more times than I can count to debug and also use as a signal for making sure my overclocks were taking. They provide quick feedback to the end user in the case of problems booting up, etc.
All and all, this is a very clean design, and one that almost certainly will leave room for large heatsinks. The Intel supplied heatsink from Thermalright fit without issue although due to our setup we were limited to which direction it could go. This might effect your setup should you choose this board, so make sure to check feedback and advice from others to ensure a good fit. The most amazing part that I found up to this point was the size of the stock heatsink from Intel. I don't recall the last time I saw such a compact heatsink. Using the simple four hole push-pin mounting mechanism, it went one easily and provided acceptable cooling for it's size.