..:: Product Package ::..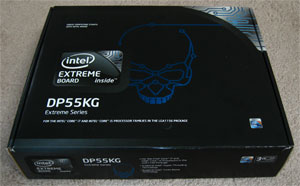 We'll start off our look at Intel's DP55KG with the usual look over of the product package and included items, followed by a short tour around the board and then on to the performance results with both an i5-750 and an i7-870. Given that this is an engineering sample, I would expect the retail packaging to slightly differ, although Intel is good with providing nearly identical products as their retail counterparts.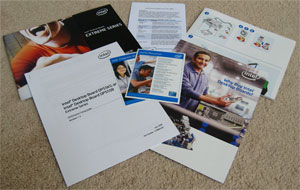 Intel provided a wealth of documentation along with the DP55KG. There was an excellent fold out guide illustrating why you should purchase an Intel motherboard. Intel shows you several detailed items, such as improperly balanced phases heating the PCB, on why they feel you are better off with an Intel branded board than perhaps one form a third party. There was also a small article detailing the certified memory that has been tested with the board.
Intel provides a detailed and simple to follow installation guide for the DP55KG. This document shows all of the core components of note and their location of the PCB, as well as step by step instructions to get the board installed, plugged in and ready to roll. Given that this is the top end board in Intel's P55 line, I would expect that most users getting this board may not need this guide, but it is always nice to see. It lets you know the manufacturer is thinking of all potential users.
The only real remaining item was the "Performance Tuning Guide". This is merely a guide fro Intel detailing the various BIOS options and how the board can be tweaked for maximum performance. Much of this can actually be done by the board itself if you choose to use Intel's integrated Turbo Boost feature in the BIOS, though for the most aggressive user there are far more memory and processor related settings that can be set.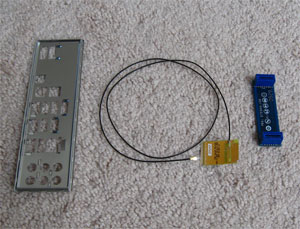 Extras wise, there was only the basic items. This is where I see the retail board offering up more in terms of cables, etc. We only see the PCI-E bridge for use in SLI setups, as well the the Bluetooth antenna that plugs directly into the board. The aluminum backplane with appropriate cutouts rounds out the product package of our test DP55KG.