..:: HyperPi ::..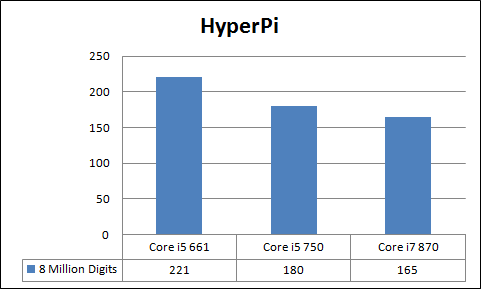 HyperPi is one of the many variants of programs used to measure the amount of time it takes for a system to compute pi to X number of digits. As the number of digits increases, performance difference become more and more readily apparent. As can be seen from the graph above, the scaling amongst our three processors is as expected in a multicore benchmark. The i5-661's dual cores can't keep pace with the quad cores on the i5-750 and i7-870.

..:: DivX 7 Encoding ::..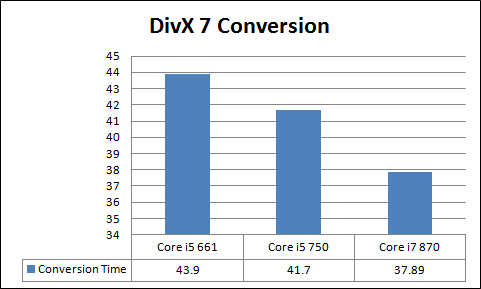 In order to gauge the multimedia application performance of the three processors on the DH55TC, we decided to go with two applications you are all familiar with, DivX 7 and Windows Media Encoder. For the DivX results, we see results similar to what other multicore applications have given in previous benchmarks. The i7-750 is able to post a faster conversion time than the i5-661, however it was only 5% faster. The i7-870 was roughly 14% faster than the i5-661.
..:: Windows Media Encoder x64 ::..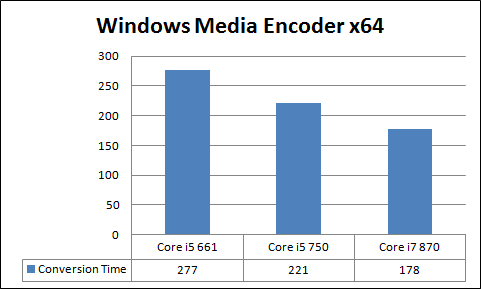 With the DivX benchmark complete, we moved on to creating a high definition resolution video file with Windows Media Encoder x64. Again, we see similar performance to what we have found in all of the other multicore capable application benchmarks. The i5-750 manages to outpace the i5-661 by about 20% this time around, and the i7-870 manages to best the i5-661 by 35%.