..:: Introduction ::..
With the recent launch of Intel's Clarkdale processor with Intel HD Graphics integrated into the package, Intel has provided an innovative solution for the needs of the budget end consumer, and the multimedia crowd. Thanks to the capable integrated graphics, Clarkdale offers an excellent solution for a home theater system, or any multimedia system for that matter. To harness the power of these new chips, Intel has developed their media series motherboards with the varying chipset options geared towards the Core i3 / i5 / i7 solutions. Today, we'll be taking a look at the DH55TC "Tom Cove" motherboard. This board offers a wealth of features, but with a market price in the $99 range, is it a better solution than competing boards? We'll take a look at the performance of three processors on the DH55TC platform, and examine other market options in a price / feature comparison to find out. Before we delve into the board, let's rewind back and take a quick look at the H55 Express features, and a quick refresher of Intel HD Graphics.
..:: H55 Express Chipset Features ::..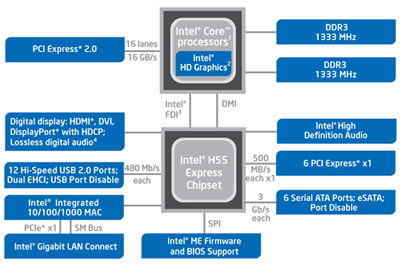 The Intel H55 Express Chipset has several features that are common amongst all of the i5 and i7 supporting chipsets. The H55 features the Direct Media Interface (DMI) between the processor and the PCH, as well as the Flexible Display Interface (FDI) for processors like the Core i5-661 The processor and FDI support both legacy analog VGA as well as all modern digital connections like HDMI and DVI. The H55 Express Chipset also adds support for an additional 6 PCI Express x1 (or other configuration like 3 x2, 1 x4 and 1 x2, etc.) lanes. It also supports Intel HD Audio, 6 Serial ATA ports, eSATA, a SPI bus for the Intel Management Engine, 10/100/1000 and/or GbE and the customary array of USB 2.0 ports. The block diagram above shows each of these in more detail.
..:: Intel HD Graphics Features ::..
With the new Intel HD Graphics enabled processors, we now have the graphics die on the processor package, greatly increasing the potential performance versus a discrete (G)MCH solution. The Intel HD Graphics solution is by no means meant for what we in the enthusiast community would call gaming. Sure it can handle many of the basics and older DX9 games, but anything beyond that and you'll be needing a discrete solution. What Intel HD Graphics is meant for is the average Joe looking for support of the Aero features of Windows Vista / 7, Blu-Ray playback support, HD streaming media and movies, etc.
In comparison to the prior GMA 4500 Series, the new Intel HD Graphics processors offer Blu-Ray playback with premium audio and dual decode functionality, Deep Color and x.v.Color, 8×8 polyphase DVD upscaling versus 6×6, HD video sharpness, dynamic frequency adjustment for mobile processors and OpenGL 2.1 support. These newly added features offer a substantial upgrade over what is currently offered in desktop and mobile (G)MCHs and over what you will find in Atom based solutions. Intel HD Graphics offers all features needed to create a true home theater or media PC. Now that we're familiar with the H55 Express and Intel HD Graphics, let's take a better look at the DH55TC.