..:: Intel D865GBF "Bayfield" Motherboard ::..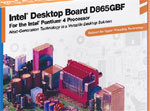 For those of you whom have not already read our review of the i865PE chipset / D865PERL motherboard, here's a quick recap on the i875P situation. In the past month, several of the main manufacturers have come out with their i875P offerings, all of them offering superior performance but the only problem is the price that comes with this performance. Today marks the release of the new Springdale line of chipsets, a cheaper alternative that, unlike the Canterwood chipset, do not come with support for Intel's Performance Acceleration Technology or ECC memory. If you'd like to read about the chipset and its features, refer back to our i875P chipset review for more information. Other than these two differences, the chipsets themselves are one in the same. The 865G variant utilizes the latest generation of Intel's integrated graphics, dubbed Intel Extreme Graphics 2. Many of you may remember that the original Intel Extreme Graphics were plagued with problems in several areas, mainly gaming compatibility and performance. Let's hope Intel has fixed these issues for this new generation of integrated graphics. Now, we'll be taking a look at the second of two boards based off the new i865 Springdale chipset, the D865GBF "Bayfield" motherboard based off of i865G. Before we begin, here's a quick rundown of the specifications for this board, along with several of the features.
..:: D865GBF "Bayfield" Specifications ::..
Processor

Intel Pentium 4 w/Hyper-Threading Technology
Intel Celeron Processors (2.0GHz & Higher)
800/533/400MHz System Bus
mPGA478 Socket
Chipset

Intel 82865G Graphics Memory Controller Hub w/Accelerated Hub Architecture
Intel 82801EB (ICH5) w/Serial ATA & USB2.0
Memory
Support for up to 4GB (w/512-Mb Technology)
Dual or Single Channel DDR 400/333 w/out ECC
4 DIMMs, 2GB Maximum Per Channel
Graphics

AGP 4x/8x connector (1.5V) w/integrated retention mechanism
Integrated Intel Extreme Graphics 2 w/DVMT
Audio

SoundMAX 4XL Technology
Analog Line Out (Front, Rear, Center/Sub)
Stereo Microphone w/Pre-Amplifier
Front Panel Header (Headphone & Mic)
Expandability

Six PCI 2.2 Slots, Eight USB 2.0 ports
Parallel, Serial, PS/2
Two IDE (ATA/100/66/33), Floppy Controllers
Two Serial ATA 150 Connectors
Onboard LAN

Optional Intel Pro/1000 (Gigabit) Integrated LAN
Optional Intel Pro/100 (10/100) Integrated LAN
System BIOS

Intel Rapid BIOS Boot
Intel Express BIOS Update
Other Features

Intel Precision Cooling With Advanced Management ASIC & Fan Control
Integrated CPU Retention Mechanism
Light Augmentation includes I/O shield, back panel label, & board layout label
Instantly Available PC (STR & PCI 2.3 compliant), ACPI 1.0, WfM 2.0 compliant