..:: Introduction ::..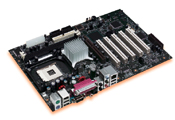 Today brings yet another first for us here at MBReview as we will have the pleasure of reviewing our first Intel brand motherboard, the D845PEBT2. Intel has never been known to offer the most performance oriented motherboards, however it seems as though they are lightening up towards the performance enthusiasts by slowly adding more tweaking features such as minor front side bus adjustments, along with some settings for memory timings. We'll be able to see such newer options with the D845PEBT2. One thing Intel motherboards have been well known for are feature sets, and for shear stability. Does the D845PEBT2 hold up to the Intel reputation? We hope to show you today, and you might just be surprised at what you see. Let's start off by taking a look at the official specifications of the D845PEBT2 as listed by Intel.
..:: Specifications ::..
Processor

Support for an Intel® Pentium® 4 Processor in a mPGA478 socket with a 400/533 MHz System Bus
Support for an Intel® Celeron® processor in a mPGA478 socket with a 400 MHz System Bus
Hyper-Threading Technology Support
Chipset

Memory

Two 184-pin DDR SDRAM DIMM Sockets
Two 184-pin DDR SDRAM DIMM Sockets
Support for up to 2 GB System Memory
Audio

Six Channel Audio W/Analog, Coaxial Digital, and Optical Digital Output
AC '97 Processing w/the Analog Devices AD1980 Codec featuring SoundMAX Cadenza
USB 2.0

Supports 6 Ports USB 2.0 at 480 Mb/sec transfer rate
Onboard LAN Controller

On board Intel DA82562ET 10/100 Ethernet Controller
Video

AGP Connector Supporting 1.5 V 4X AGP Cards
SATA / SATA-RAID

Sil 3112A Controller Supporting Individual Drives and RAID 0 and RAID 1 Configurations
Two SATA Connectors Supporting a Total of Two Drives
Peripheral Interfaces

Up to Six USB 2.0 Ports
Three IEEE 1394a-2000 Ports (optional)
One Serial Port
One Parallel Port
Two IDE Interfaces with Ultra DMA 33 and ATA-66/100 Support
One Diskette Drive Interface
PS/2* Keyboard and Mouse Ports
Three Fan Connectors
Back Panel I/O Connectors

Four USB 2.0 Ports (Up to Six w/Add-On Bracket)
1 x PS/2 Keyboard, 1 x PS/2 Mouse
1 x Serial Port Connector, 1 x Parallel Port Connector
1 x S/PDIF RCA Out Connector
1 x S/PDIF Optical Out Connector
1 x RJ-45 LAN Connector
Audio connectors (Center/Sub, Surround Speaker)
Audio connectors (Front Speaker, Line-in, Mic-in)