..:: SiSoftware SANDRA ::..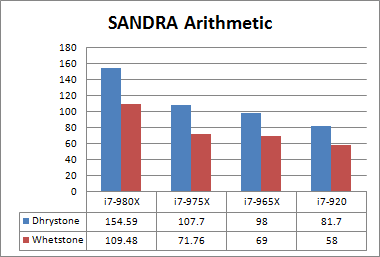 Starting things off today, we have SiSoftware's SANDRA. For the Arithmetic performance of the i7-980X, we see a sizable gain of 43% for Dhrystone performance, and 50% for Whetstone. This coincides as expected with the addition of two cores over the i7-975, which runs at the same clock speed. When it comes to the standard Multimedia benchmark, we also see a roughly 50% gain in all tests performed over the i7-975.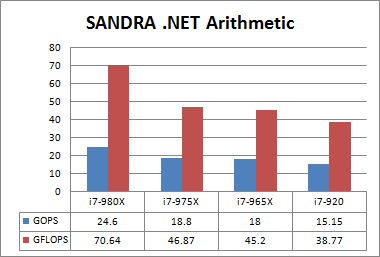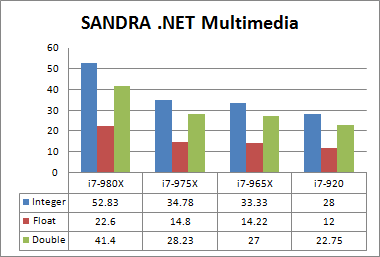 The same results as we found above in the standard Arithmetic and Multimedia benchmarks were found as we transitioned over to the .NET CLR Arithmetic and Multimedia benchmarks. The only test where we did not see the precise 50% scaling between the i7-975 and i7-980X was in the Arithmetic Dhrystone results, gaining only 30% over the i7-975. The remaining tests showed gains all around the 50% margin.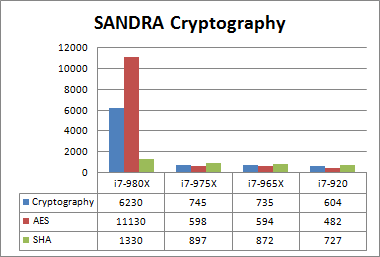 When it comes to Cryptography, we finally see what the new AES-NI instructions can do for AES performance. The i7-980X simply obliterates the competition without mercy for AES bandwidth. The i7-980X offers over 18.5x the bandwidth of the i7-975. We're talking 11.13GB/s versus the i7-975's 598MB/s. Clearly, AES encryption applications will shine with the new "Westmere" processors and the AES-NI instructions. For SHA performance, we again found a 50% performance boost.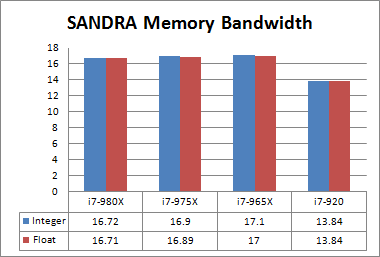 Finally, in terms of memory bandwidth, we don't find any surprises here. Our benchmarks were run with a dual channel setup, and only the i7-920 showed a drop in bandwidth, thanks to running the DDR3 at a lower clock by default. One interesting fact was that as we moved our way up to better and better processors, the bandwidth actually dropped slightly each time.