..:: Introduction ::..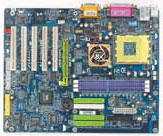 When we first took a look at a motherboard from Gigabyte, we were more than impressed by the product presentation and the extra features and products that came along in the package. Gigabyte, in my personally opinion, supplies the best product packages for the buck. Today we'll be taking a look at Gigabyte's latest motherboard based off of the "aging" VIA KT400 chipset. As many of you may already know, the nForce2 chipset currently holds the crown for performance when it comes to AMD based solutions. With the upcoming release of the new VIA KT400A motherboards, KT400 motherboards should be dropping in price and boards such as the GA-7VAXP Ultra will become great bargains. We'll be pitting our Gigabyte GA-7VAXP Ultra against the Leadtek K7NCR18D-Pro in today's tests to show you the performance difference between these chipsets, among the several other items we also look at. Let's start off by taking a look at the official specifications as listed by Gigabyte.
..:: Specifications ::..
Processor

Socket A for AMD Athlon™ XP / Athlon™ / Duron™ Processor
200/266/333MHz Front Side Bus
Chipset

Northbridge – VIA KT400
Southbridge – VIA 8235
VIA V-Link Architecture (533MB/s)
VIA VT6306 IEEE1394 Controller
Super I/O – ITE IT8705F
Silicon Image Sil3112A Controller
Promise PDC20276 ATA 133 RAID Controller
Realtek 8100BL Ethernet 10/100Mb LAN Controller
AC97 Realtek ALC650 6-Ahannel Sound Chip
Dual BIOS
Memory

Type: DDR400(PC3200) / DDR333 (PC2700) / DDR266 (PC2100) / DDR200 (PC1600) – 184pin
Max capacity: Up to 3GB by 3 DIMM slots
DDR400 (PC3200) Max. up to 2 DIMM slots
Internal I/O Connector

1 x FDD
4 x UDMA ATA133/100/66 Bus Master IDE ports
3 x IEEE 1394 Connectors
2 x 2ports USB 2.0 Connector (by front USB ports)
1 x 2ports USB 2.0 Connector (by cable with rear USB bracket)
2 x SATA Connectors
2 x Cooling Fan Headers
Expansion Slots

1 x AGP 8x/4x/2x AGP 2.0 Compliant
5 x PCI (PCI 2.2 Compliant)
Rear Panel

PS/2 Keyboard / Mouse Connector
2 x USB 2.0 ports
2 x COM ports
1 x RJ45 LAN port
Audio (1 x Line-in / 1 x Line-out / 1 x Mic) Connector
1 x Game / Midi port