Last Updated: January 11th, 2021
Author: Stephen Cooper
Introduction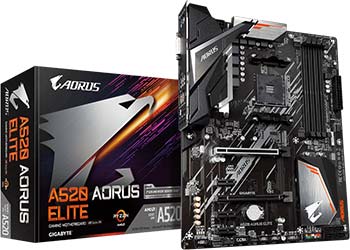 AMD's A520 chipset occupies what could be seen as a crowded space. Now that Ryzen 5000 series CPUs are supported on the 400-Series chipsets, is there really room for the A520? Most would simply look at it and say, no, B450 boards only cost a bit more and you have the overclocking support. It's a no brainer. Or, is it? After all, if you're using your rig for work as well as play, do you really need cost up features like 2.5GbE? What about integrated Wi-Fi if you're parked near your modem or router? Are you one to shy away from overclocking to retain that warranty, or simply don't want to invest in an expensive cooler? These factors and more make A520, especially the "premium" A520 boards, more enticing. Today, we have a quick preview of an enthusiast level A520 motherboard, the GIGABYTE A520 AORUS ELITE.
The A520 AORUS ELITE occupies the high-end of A520 based motherboards. I picked this one up for a mere $89.99, a relative steal in comparison to most B550 motherboards, and still cost effective over B450 boards. Yes, it gives up overclocking support of the processor. However, that doesn't mean you're limited to stock performance. Unlike most B450 motherboards, you're not limited to DDR4-3200. The A520 AORUS ELITE can handle up to DDR4-4266. I know, I know, why would you invest in such a kit when you're only dropping $90 on a board? And I hear you. But, that doesn't mean you can't pick up a budget level DDR4-3200 kit and make it scream.
While this is one overclocking method that's enabled by the A520 chipset, you do need to take into account that pesky stock CPU PPT limit. While you're not pushing the SoC on a processor like the 5600X this board was tested with, ramping up that DDR and Infinity Fabric clock will consume a few extra watts. That means on high core count loads, you'll end up giving up a bit of performance depending on how far you push it in frequency and voltage. Finding that right balance is the fun of the game.
Now, for this preview, and review, I'm focusing on performance with a Ryzen 5600X. Will most picking up this board want to sink that much cash into a processor? Probably not. You'd likely be heading down a route closer to a Ryzen 3600 if you're going for a APU-less chip. A520 will allow for upgrades in the future to the Zen 3 line though. Some may also want to pair this up with any future Zen 3 + APU chip as well.
Before we delve into a quick look at the board, here's a quick glance at the specs, courtesy of GIGABYTE.
Specifications – A Quick Look
CPU
AMD Socket AM4, support for AMD Ryzen™ 5000 Series / 3rd Generation AMD Ryzen™ processors / 3rd Generation AMD Ryzen™ with Radeon™ Graphics processors(Please refer "CPU Support List" for more information.)
Chipset
AMD A520
Memory
4 x DDR4 DIMM sockets supporting up to 128 GB (32 GB single DIMM capacity) of system memory
AMD Ryzen™ 5000 series processors:
Support for DDR4 4266(O.C.) / 4000(O.C.) / 3866(O.C.) / 3800(O.C.) / 3733(O.C.) / 3600(O.C.) / 3466(O.C.) / 3400(O.C.) / 3333(O.C.) / 3300(O.C.) / 3200 / 2933 / 2667 / 2400 / 2133 MHz memory modules
3rd Gen AMD Ryzen™ Processors:
Support for DDR4 4400(O.C.) / 4000(O.C.) / 3600(O.C.) / 3333(O.C.) / 3200 / 2933 / 2667 / 2400 / 2133 MHz memory modules
3rd Gen AMD Ryzen™ with Radeon™ Graphics processors:
Support for DDR4 4733(O.C.) / 4600(O.C.) / 4400(O.C.) / 4000(O.C.) / 3600(O.C.) / 3333(O.C.) / 3200 / 2933 / 2667 / 2400 / 2133 MHz memory modules
Dual channel memory architecture
Support for ECC Un-buffered DIMM 1Rx8/2Rx8 memory modules
Support for non-ECC Un-buffered DIMM 1Rx8/2Rx8/1Rx16 memory modules
Support for Extreme Memory Profile (XMP) memory modules(Please refer "Memory Support List" for more information.)
Onboard Graphics
Integrated in the 3rd Generation AMD Ryzen™ with Radeon™ Graphics processors:1 x DVI-D port, supporting a maximum resolution of 1920×1200@60 Hz
* The DVI-D port does not support D-Sub connection by adapter.
1 x HDMI port, supporting a maximum resolution of 4096×2160@60 Hz
* Support for HDMI 2.1 version, HDCP 2.3, and HDR.Maximum shared memory of 16 GB
Audio
Realtek® ALC1200 codec
High Definition Audio
2/4/5.1/7.1-channel
Support for S/PDIF Out
LAN
Realtek® GbE LAN chip (1000 Mbit/100 Mbit)
Expansion Slots (CPU)
1 x PCI Express x16 slot, supporting PCIe 3.0 and running at x16 (PCIEX16)
* For optimum performance, if only one PCI Express graphics card is to be installed, be sure to install it in the PCIEX16 slot.Chipset:
1 x PCI Express x16 slot, supporting PCIe 3.0 and running at x2 (PCIEX2)
3 x PCI Express x1 slots, supporting PCIe 3.0 (PCIEX1_1, PCIEX1_2, PCIEX1_3)
* The PCIEX1_2 and PCIEX1_3 slots share bandwidth with the PCIEX2 slot. The PCIEX2 slot becomes unavailable when a device is installed in the PCIEX1_2 or PCIEX1_3 slot.
Storage Interface (CPU)
1 x M.2 connector (Socket 3, M key, type 2242/2260/2280/22110 SATA and PCIe 3.0 x4/x2 SSD support)Chipset:
4 x SATA 6Gb/s connectors
Support for RAID 0, RAID 1, and RAID 10
USB (CPU)
1 x USB 3.2 Gen 2 Type-A port (red) on the back panel
3 x USB 3.2 Gen 1 ports on the back panelChipset:
2 x USB 3.2 Gen 1 ports available through the internal USB header
4 x USB 2.0/1.1 ports available through the internal USB headers
4 x USB 2.0/1.1 ports on the back panelChipset+USB 2.0 Hub:
Internal I/O Connectors
1 x 24-pin ATX main power connector
1 x 8-pin ATX 12V power connector
1 x CPU fan header
1 x water cooling CPU fan header
3 x system fan headers
2 x addressable LED strip headers
2 x RGB LED strip headers
1 x M.2 Socket 3 connector
4 x SATA 6Gb/s connectors
1 x front panel header
1 x front panel audio header
1 x USB 3.2 Gen 1 header
2 x USB 2.0/1.1 headers
1 x Trusted Platform Module (TPM) header (2×6 pin, for the GC-TPM2.0_S module only)
1 x serial port header
1 x Clear CMOS jumper
1 x Q-Flash Plus button
Back Panel Connectors
1 x PS/2 keyboard/mouse port
1 x DVI-D port
1 x HDMI port
1 x USB 3.2 Gen 2 Type-A port (red)
3 x USB 3.2 Gen 1 ports
4 x USB 2.0/1.1 ports
1 x RJ-45 port
1 x optical S/PDIF Out connector
5 x audio jacks
I/O Controller
iTE® I/O Controller Chip
H/W Monitoring
Voltage detection
Temperature detection
Fan speed detection
Water cooling flow rate detection
Overheating warning
Fan fail warning
Fan speed control
* Whether the fan speed control function is supported will depend on the cooler you install.
Unique Features
Support for APP Center
* Available applications in APP Center may vary by motherboard model. Supported functions of each application may also vary depending on motherboard specifications.
@BIOS
EasyTune
Fast Boot
Game Boost
ON/OFF Charge
RGB Fusion
Smart Backup
System Information Viewer
Support for Q-Flash Plus
Support for Q-Flash
Support for Xpress Install
Bundled Software
Norton® Internet Security (OEM version)
Realtek® 8118 Gaming LAN Bandwidth Control Utility
Form Factor
ATX Form Factor; 30.5cm x 24.4cm
---