..:: Introduction ::..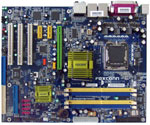 With the recent release of Intel's i975X chipset, we'll likely be seeing a bit of a price drop on some of the "older" products, namely i945P and i945G motherboards. The i945P chipset has been out for some time now, but the performance differential between it and it's two bigger brothers is quite small on the grand scheme of things. These boards offer both solid performance, as well as an excellent value in many cases. Today, we'll be taking a look at one of those i945P motherboards, the Foxconn 945P7AA-8EKRS2. We've already seen what Foxconn's i955X motherboard can do, now it's time to see how the i945P offering takes to our punishment.
..:: 945P7AA-8EKRS2 Specifications ::..
Processor

Designed for Intel® Pentium 4 Processors w/533/800/1066MHz FSB
Supports Intel Hyper-Threading Technology
Chipset

North Bridge : Intel i945P
South Bridge : Intel ICH7-R
ITE IDE RAID Controller
Dual Broadcom Gigabit Ethernet Controllers
TI IEEE1394 Controller
Realtek ALC880 HD Audio CODEC
Memory

4 DDR-II DIMM Slots
DDR-II 533/667MHz RAM
Max: 4GB
Expansion Slots

1 x PCI-E x16
2 x PCI-E x1
3 x PCI
3 x UDMA/133/100/66
2 x IDE RAID
1 x FDD
4 x SATA
8 x USB 2.0 (Total)
Back Panel I/O Ports

1 x Parallel, 1 x Serial, 1x IEEE1394
1 x PS/2 Keyboard, 1 x PS/2 Mouse
7 x Audio I/O, 1 x Coax Audio
4 x USB 2.0, 2 x RJ-45 Ports