..:: Introduction ::..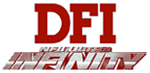 What if you were a motherboard manufacturer that catered to the most demanding of computer enthusiasts. Would you want to be the one company that could provide a seemingly limitless solution for the intended platform of choice? Well I would too, and that is exactly what DFI intends to prove with their new NFII Ultra Infinity, a motherboard that can hold any K7 processor available.
But why go to such extreme levels when AMD's new 64-bit K8 processors are now on the scene? Because although the architecture of the K7 core is nearing an end, the platform upon which your PC is being constructed from is still expanding. VIA even recently announced their new KT880 chipset, their first stab at a dual-channel DDR interface for K7 processors, so the battle for platform supremacy for your mighty Athlon or little Duron continues on.
So for all of today's intents and purposes, the question at hand is whether or not the DFI NFII Ultra Infinity will finally provide you with everything you have been dreaming about for your Socket-A chip… and what about the rest of your PC? We do have high expectations, and DFI sure does think they've got the ticket to ride, but will the NFII Ultra Infinity crash and burn or take home the blue ribbon? Let's find out!
..:: DFI NFII Ultra Infinity Specifications ::..
Processor

Socket A for AMD Athlon XP/Athlon/Duron
400/333/266/200MHz FSB
Chipset

Nvidia nForce2 Ultra 400 Northbridge
Nvidia nForce2 MCP-T Southbridge
Nvidia 10/100 with ICS1893 PHY
6 x USB 2.0 ports (MCP-T built-in)
3 x IEEE1394 ports (MCP-T built-in with Agere FW803 PHY)
Nvidia SoundStorm with Realtek ALC650 CODEC
Silicon Image Sil3114 RAID
Memory

3 x DDR DIMM Sockets
Max. 3GB unbuffered PC3200/PC2700/PC2100/PC1600
Expansion Slots

1 x AGP 8X
5 x PCI
2 x UDMA/133/100/66
1 x FDD
4 x SATA IDE/RAID (Silicon Image Sil3114)
Special Features

Power Loss Restart, System Hardware Monitor
WOR, WOL, Wake-on-USB, Wake-on-PS/2
Front panel audio connector
Back Panel I/O Ports

1 x Parallel, 1 x Serial
1 x PS/2 Keyboard, 1 x PS/2 Mouse
1 x Audio I/O (Line In, Line Out, Mic In)
4 x USB 2.0, 1 x RJ-45 Port
1 x S/PDIF In, 1 x S/PDIF Out
BIOS Features

4Mb Flash ROM, Phoenix-Award BIOS
Genie BIOS
CMOS Reloaded