..:: Introduction ::..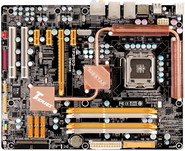 Putting it plainly, Biostar has never been on the top of my list when it comes to performance or enthusiast oriented products. Over the past few months, the seas of change have been churning at Biostar bringing about the release of several boards under the T-Force moniker. This new line of products brings Biostar ever closer to the realm of enthusiast grade products.
Biostar is certainly one of the latest motherboard manufacturers to step into the enthusiast limelight, but previous manufacturers more known for OEM capabilities like Foxconn have too stepped forward to carve out a niche market for their products. Whether or not Biostar will succeed with their latest T-Force line is yet to be fully seen.
Today, we take our first looks at the Biostar TP35D3-A7 Deluxe. This board comes sporting Intel's P35 chipset and supports only DDR3. This isn't a board with split support, only DDR3 is supported with this board which means an upgrade is required. The board also comes with native support for Intel's latest 1333MHz FSB Core 2 Duo processors. Before we take a look at the performance of this product in the near future, let's first take a good look at the product package and overall layout of the product.

..:: Biostar TP35D3-A7 Deluxe Specifications ::..
Processor

Designed for Intel LGA775 Processors w/800/1066/1333MHz FSB
Supports Core 2 Duo/ Quad / P4 / Celeron Processors
Supports Intel Hyper-Threading Technology
Chipset

North Bridge : Intel P35
South Bridge : Intel ICH9R
Dual Marvell 88E8056 Gigabit Ethernet Controllers
Realtek ALC888 HD Audio CODEC
Memory

4x DDR3 DIMM Slots
DDR3 667/800/1066/1333MHz RAM
Max: 8GB
Expansion Slots

1 x PCI-E x16
3 x PCI-E x1
2 x PCI
1 x UDMA/133/100/66
1 x FDD
6 x SATA
6 x USB 2.0
Back Panel I/O Ports

1 x PS/2 Keyboard, 1 x PS/2 Mouse
6 x Audio I/O, 2 x External SATA
6 x USB 2.0, 2 x RJ-45 Ports