Last Updated: January 7th, 2021
Author: Stephen Cooper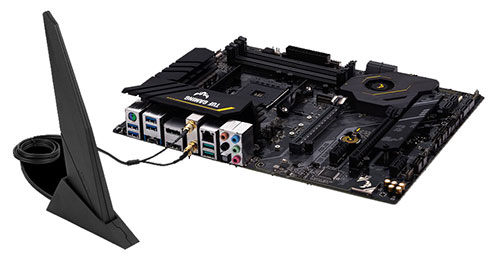 Now that the AMD X570 chipset has been in the field for well over a year, and thanks to the recent launch of the Ryzen 5000 series, we're starting to see some new launch and refreshed motherboards hit the market. Today, the ASUS TUF X570-PRO GAMING (WI-FI) rolled into town. Before we fire it up for a deeper review, let's take a quick look at the successor to the popular TUF X570-PLUS GAMING (WI-FI) to satiate the appetite.
Product Highlights
Given that the TUF X570-PRO is the successor to the X570-PLUS, we expect much of that board to carry over to this refreshed model. And, that is certainly the case. Much of the key product highlights that ASUS provides are duplicated from the X570-PLUS. We've still got the "12+2" setup, with a 4 phase design paired with 3 power stages each for the VCORE, along with 2 for the SOC. We've still got two M.2 slots, only one of which has a heatsink provided. ASUS Aura is still with us, as is the Realtek S1200A. Here are the details ASUS lists for the TUF X570-PRO GAMING (WI-FI):
AMD AM4 Socket: Ready for 3rd and 2nd Gen AMD Ryzen™/3rd, 2nd and 1st Gen AMD Ryzen™ with Radeon™ Graphics Processors
Enhanced Power Solution: 12+2 Dr. MOS power stages, 6-layer PCB, ProCool sockets, military-grade TUF components, and Digi+ VRM for maximum durability
Comprehensive Cooling: Active chipset heatsink, VRM heatsink, M.2 heatsink, hybrid fan headers and Fan Xpert
Next-Gen Connectivity: Dual PCIe 4.0 M.2 and USB 3.2 Gen 2 Type-A /Type-C
Gaming Networking: Exclusive onboard 2.5G Intel® LAN, Intel® WiFi 6, Bluetooth 5.1, TUF LANGuard and TurboLAN technology
Realtek S1200A Codec: Pristine audio quality with unprecedented 108dB signal-to-noise ratio for stereo line-out and 103dB SNR for line-in
Aura Sync RGB: Synchronize LED lighting with a vast portfolio of compatible PC gear, including addressable RGB strips
TUF Gaming Alliance: ASUS hardware ecosystem ensures the best compatibility and complementary aesthetics from components to case
Let's cut the chase. What is actually new here? Read on to find out.
What's New? – VRM Cooling Upgrade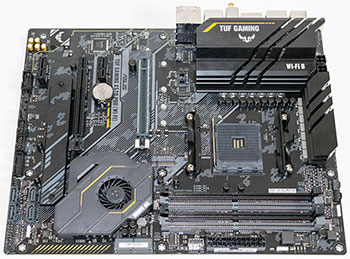 As you'd expect, the actual VRM architecture and components are carry over the from X570-PLUS. ASUS is still offering the "12+2" design, whereby we have 4 VCore PWM phases mated up with 3 power stages for each phase, along with two phases for the SOC. The Vishay SIC639's integrated power stages are rated for 50A max, offering 150A for each effective phase. Now, some may look at this with a raised eyebrow seeing "12+2" listed everywhere. No, it wasn't a true 12 phase VCore design then, and it still isn't now. However, that does not mean that this cheaper architecture does not come with some added benefits. The main one, besides lower cost, is efficiency.
We expect to see excellent thermals from the VRM as were see with the X570-PLUS. For VRM cooling, we see that ASUS has ripped off the X570-PLUS' integrated I/O shield, and instead beefed up the main VCore heatsink with a large wing. These still appear to be more for design that optimal functionality though. Sure, you have some stylish wings with sharp edges in both heatsinks, but there it little in the way of a finned design with copious surface area. When paired with the already efficient VRM architecture though, these heatsinks should be more than ample enough to handle the load.